Our History
A Legendary Journey

Where we come from, hunting isn't just what we do, it's who we are. Not even the end of hunting season can change that. That's why Legendary Whitetails is dedicated to creating everyday apparel, gifts and gear, built as much for the backwoods, as the backyard. Every detail. Every day. No exceptions. We pride ourselves on it, and since 1999, our family-owned company has been designing products hunters are proud to wear. So if you want to take the woods with you wherever you go, consider yourself in good company.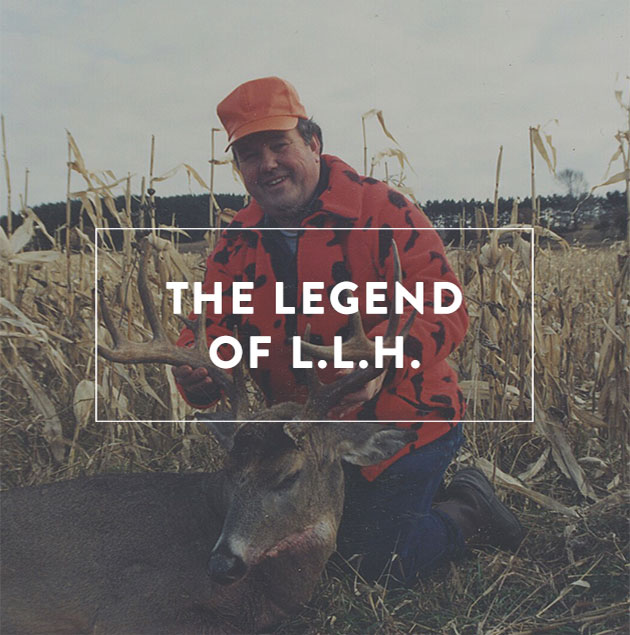 When it comes to celebrating the hunt, Larry Huffman pretty much wrote the manual. What started as passion for hunting, quickly became a lifetime to devotion to sharing that love with anyone and everyone who was interested. From bringing together the most unique collection of whitetail bucks this side of the earth has ever laid eyes on, to setting the path for an apparel brand that is now an important part of hunters lives on and off the hunt—he is a legend in his own right. It's his principles, his vision, his obsession for sharing the hunt with others—in and out of the woods—that set in place the guide to living every day like it's the stuff of legends.
Larry had a vision: To create "Original Deergear" tailored specifically to hardcore whitetail hunters, and their families. Today, his vision is still the driving force behind our brand. What started off as a tri-fold catalog, has since grown into a comprehensive collection, including a women's line, kid's apparel, exclusive camo patterns, extra-large sizes for men and plus sizes for women. Every product we create captures our passion for hunting and inherent connection to the outdoors. Built for hunting season, the off-season and every season in between, our one-of-a-kind products will help you celebrate the hunt—every day of the year. Because to us, it's one celebration that should never end. Our success is thanks to the enthusiastic customers we design for (that's you), as well as the extreme dedication of our own staff. Nowhere else will you find a collection designed specifically for hunters, by hunters. Every detail. Every day. It's what we do.
Regardless of the day, we promise that each order is picked and packed with the same level of care we would give to our own family—all part of the "Legendary" experience. We also take great pride in providing the lowest possible shipping rates, and quick and easy returns. That's why we constantly work with our carriers to negotiate rates, and emphasize flat fee, easy-to-use, return labels. Not only will we get your package back in a timely manner, but we strive to process your refund or exchange within 24 hours of receiving it. Across the board, if you ever feel unsatisfied about anything, let us know and we'll make it right. After all, our motto is "Love it or send it back." And we stand behind it...
Bottom line: We want your shopping experience to be as enjoyable as possible, so you can get back to more important things—like hunting