Men's Tough as Buck Heavyweight Flannel Shirt
Details
https://www.legendarywhitetails.com/product/mens-tough-as-buck-heavyweight-flannel-shirt-6170.html
Heavyweight flannel

Corduroy collar and cuffs

Tough as Buck leather patch

Twin button flap chest pockets
---
From Grandpa's Closet
Our Tough as Buck collection features only the best fabrics, hardware, and trims to withstand the test of time to be handed down from generation to generation. This heavyweight (6.5oz) men's brawny flannel shirt is designed to honor the hunting legends of the past and have earned the right to be called Tough as Buck.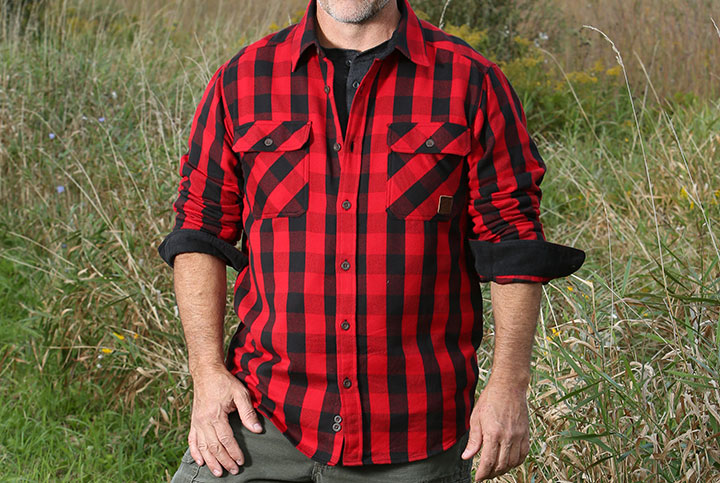 ---
Durable Styling
The signature colormatched corduroy lined collar and cuffs not only look cool, it provides stablility which means they will hold their shape and you don't have to iron them.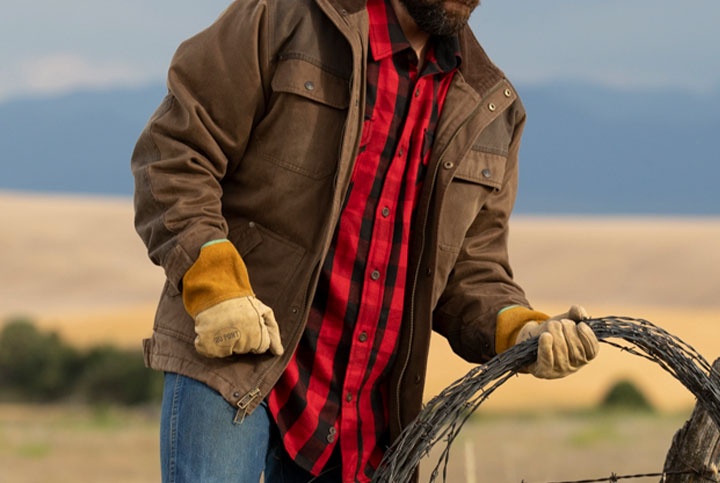 Buck Camp
Flannel

Shotgun Western
Flannel

Legendary
Stretch Flannel

Backwoods
Hooded Flannel

Tough as Buck
Flannel
Material
100% Cotton
100% Cotton
97% Cotton / 3% Spandex
100% Cotton
100% Cotton
Fabric Weight
5.1oz
5.1oz
5.6oz
7.8oz
6.8oz
Relaxed Fit
Front Closure
Button
Snap
Button
Snap
Button
Chest Pockets
Single button with pencil slot
Double snap
Double button with tuck in flaps
Double snap
Double button
Double Pleated Back
Locker Loop
Special Features
Corduroy lined collar and cuffs
Corduroy lined collar and cuffs
Stretch suede knit lined collar and cuffs
Jersey lined hood
Corduroy lined collar and cuffs
Product Description & Details
Description
They just don't make them like this anymore, so we decided to! We built The Tough as Buck™ Heavyweight Flannel Shirt straight out of Great Grandpa's closet. The fabric is just like his, with beefy cotton yarns brushed for an ultimate softness that normally takes years of wearing and washing. Grandpa was a legend, and so was his shirt... but since he could only have one favorite great grandchild, now your siblings and cousins can all have one too! Featured in classic buffalo checks and fresh ombre plaids with genuine leather details, which one will you fight for?
Details
VINTAGE STYLE: This heavyweight 6.5 ounce men's brawny flannel shirt is designed to honor the hunting legends of the past who have earned the right to be called Tough as Buck™.
MULTI-GENERATIONAL: Our Tough as Buck™ collection features only the best fabrics, hardware, and trims to withstand the test of time to be handed down from generation to generation.
RELAXED FIT: This flannel shirt includes the right amount of room in all the right places, so it can be worn tucked in or untucked. It features a double pleated back to prevent tugging.
DURABLE QUALITY: Our signature color matched corduroy lined collar and cuffs not only look cool, but add stablility... which means they will hold their shape so you don't have to iron!
100% SATISFACTION GUARANTEE: Designed in the USA, Legendary Whitetails is an American small business. We take pride in all our products. Love it or send it back!
Imported
Material
100% Cotton
Wash
Machine Washable *See label for specific care instructions